Hut-to-Hut Weekend Hiking in Romsdalen, Norway
Fancy getting a bit of mountain air combined with staying at scenic huts and getting some exercise at a moderate pace? Welcome to our 3-day Hut-to-Hut hiking trip in Romsdalen, Norway. 
3 Days | Åndalsnes, Norway
Norway in a nutshell
Romsdalen boasts of many high peaks towering up above the sea. On this 3-day trip, we get to travel across some of the classic mountain passes and stay in two scenic mountain huts. So, if you want to experience the birthplace of Norwegian alpinism on a weekend hike make sure to book one of our limited spots this season!
The High Route of Romsdalen
Like a scene out of Lord of the Rings, Romsdalen has the mountains, fjords, and rivers to fit perfectly in the movie. When hiking in these mountains, it is hard not to think about how this fantasy terrain has impacted the people living here since the age of the Vikings, constantly in symbiosis with nature. Jagged ridgelines that separate communities. The small slots of soil that has provided a way of living for centuries. The importance of the sea for travel and fishing.
With these thoughts in mind, we hike from hut to hut, built on selected locations with Scandinavian minimalism and mountain safety in mind.
The cabins provide just that and not much more. No flat-screen TVs. No sports bar. No annoying sounds except the wind howling and the fire crackling. Still, the warmth and comfort of four walls and a roof with bunk beds, candles, a couple of chairs, and a table is all we need. The huts are clean, cozy, and comfortable; after a few hours, it feels like a home. This is the feeling we are going for and something rooted in the Scandinavian tradition of the outdoors. We take care of our home, so we leave it as we would like to find it.
So, if you are looking for an alpine multi-day hike in Romsdalen, where you get to stay at some of the best locations in Norway – you are more than welcome to join us to explore this rugged high route of Romsdalen.
Why did we create this trip?
A trip to Romsdalen is to experience what many people think of when they think "Norway". That is often jagged peaks, deep valleys, fjords and small fishing communities. 
We created this trip because we like the experience of hiking above the clouds and combining this with a few selected mountain huts where you also stay up on the mountain. The huts are small and we like it that way as it feels more genuine and less of a tourist trap. 
Essentially, you come home with a profound feeling of having spent a few days in the Deep Wild. 
Who is this hut-to-hut hike for?
Hiking the high route in Romsdalen is a weekend adventure for someone who wants to experience a multi-day hike with a guide in classic Norwegian mountain terrain.
You probably have some experience hiking in the mountains but do not necessarily see yourself as the ultimate expert or hike-nerd.
You probably like to experience scenic locations of classic Scandinavian mountain huts. To eat well and belong to a team of other hikers without having to spend all your weekends planning the route and logistics.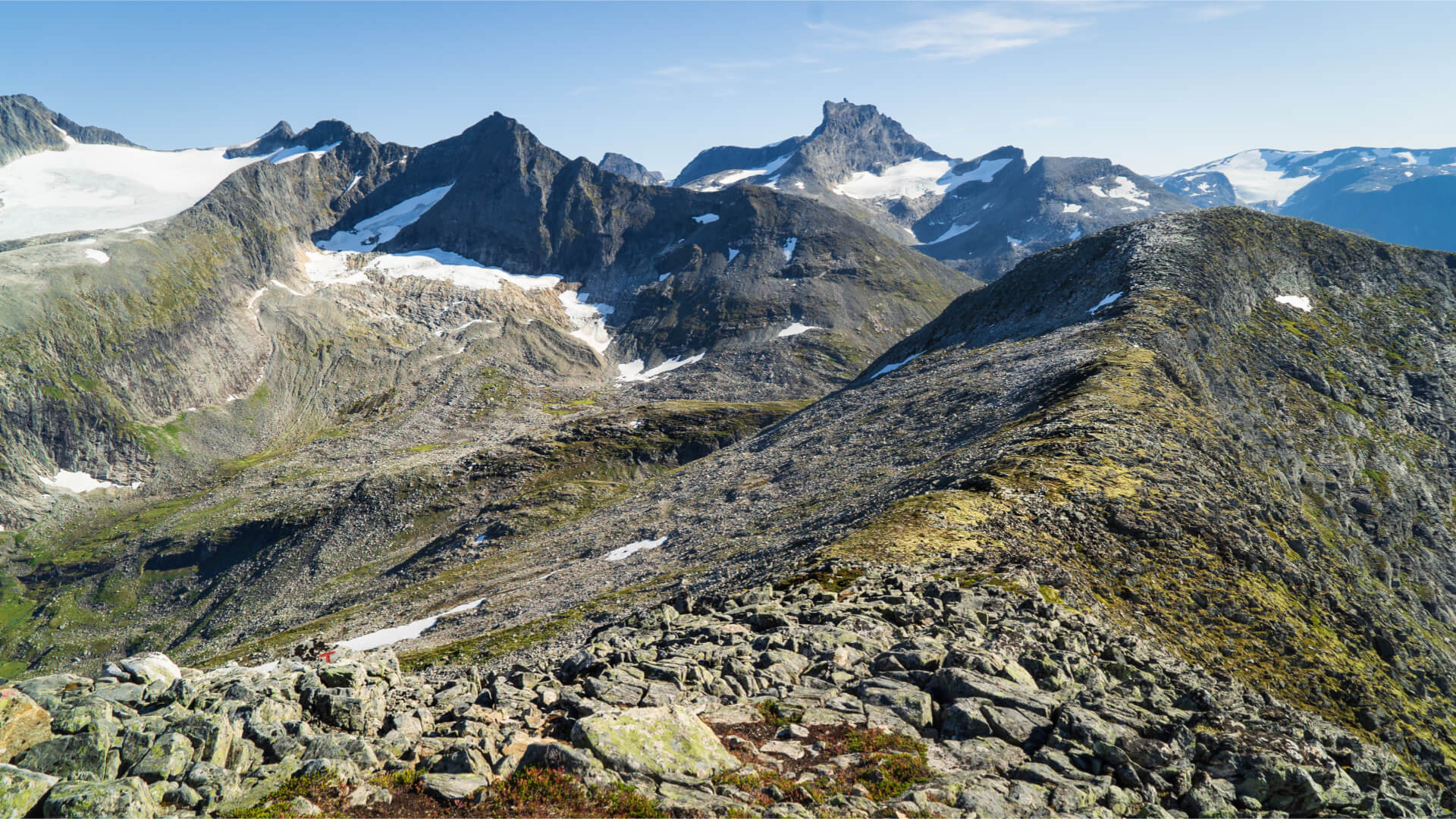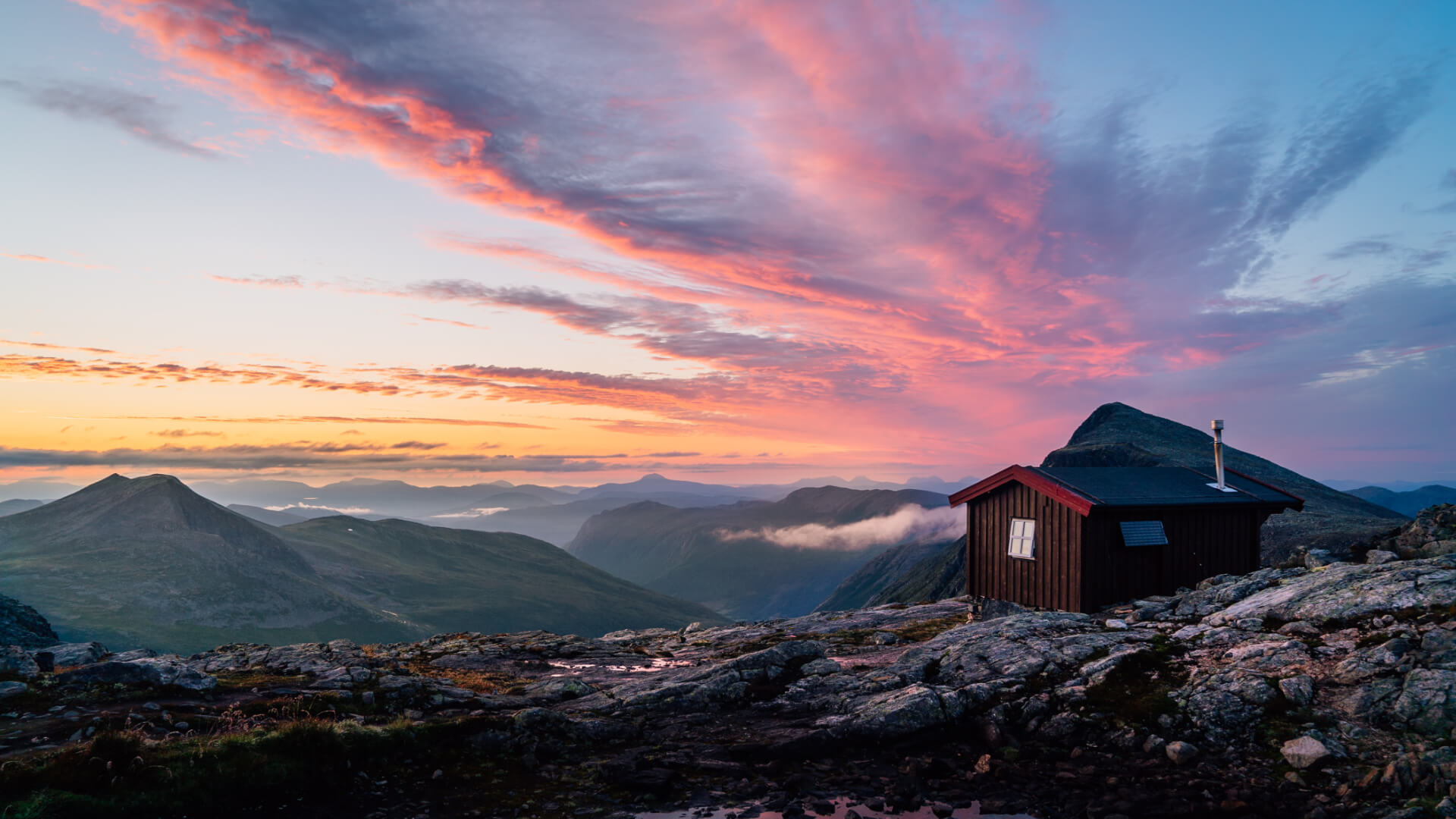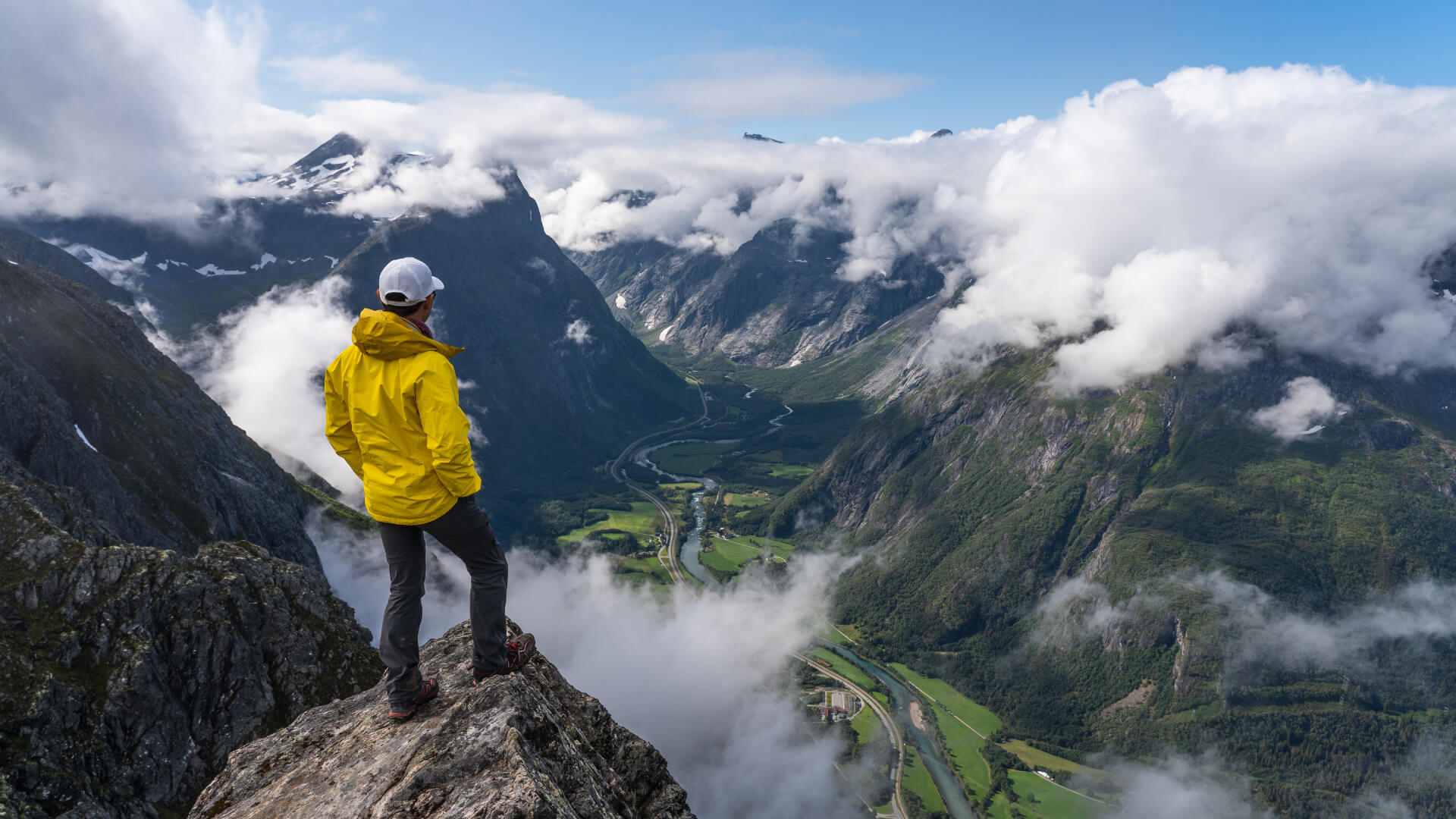 Looking to extend your stay? Hike the Romsdalseggen ridge with us.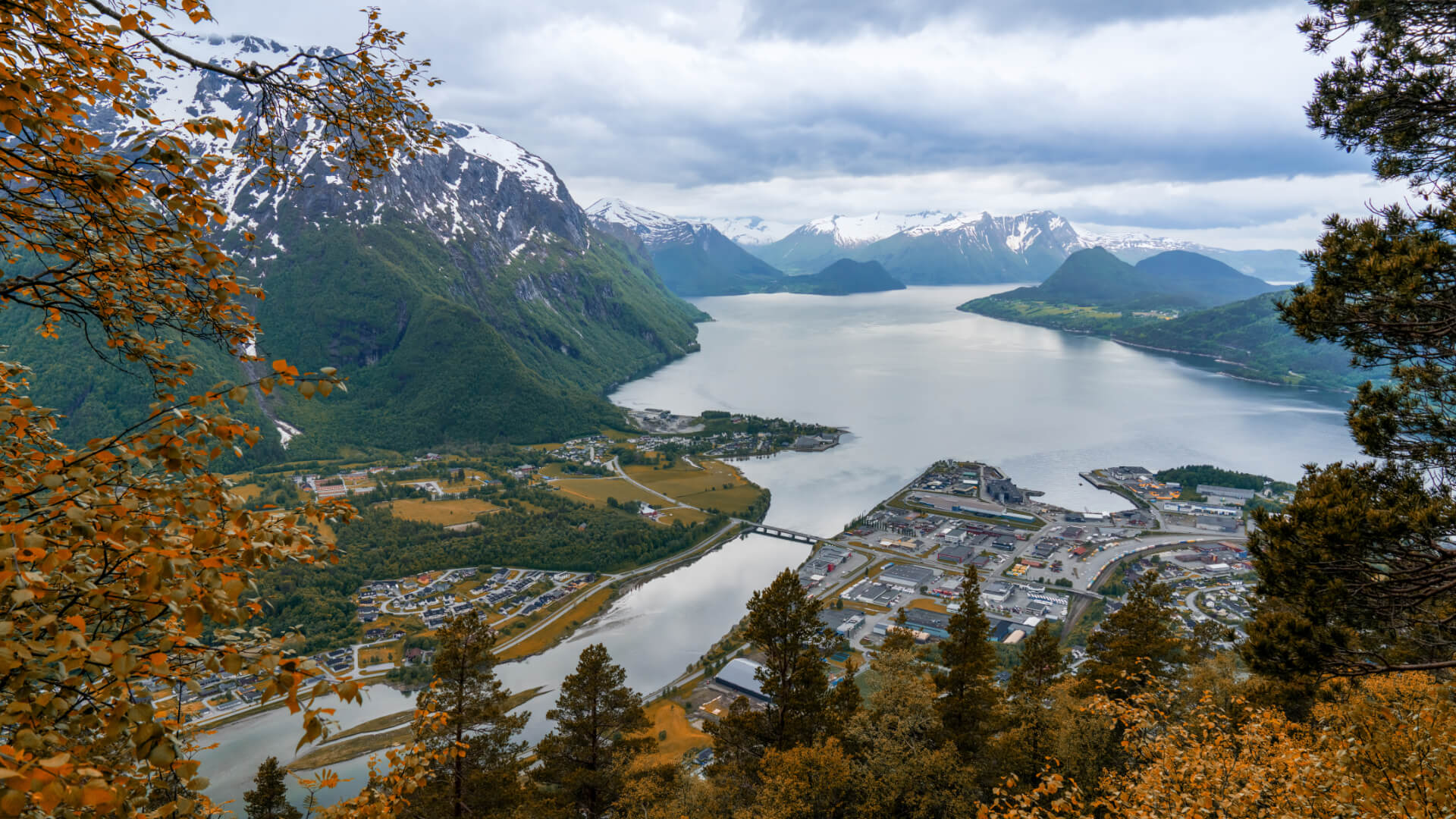 The trip starts in the town of Åndalsnes where the river Rauma meets the ocean. 
Calendar
20-22 September 2024 (Friday to Sunday)
19-21 September 2025 (Friday to Sunday)
18-20 September 2026 (Friday to Sunday)
To offer a private trip, we need a group of at least 4 persons. We can then find dates that suit you and help you with travel and accommodation alternatives.
Day 1
Let's meet up in town for a coffee and make sure everyone is with us and has their gear sorted. Then we will be taken by car to the trailhead where our hiking starts. 
Most of the time we will be ascending but that also means that it does not take long before we start getting views. 
The time on the trail will be about 6 to 7 hours at a mellow pace. In the end, we will stay in a cabin located at around 1200 meters above sea level, hoping for a magnificent sunset. 
Day 2
Waking up above the clouds is always a great feeling, knowing that most people down in the valley will have overcast while we are drinking morning coffee in the sun leaning against the hut's wall. 
It is easy to be stuck like this all day, but our goal is to continue the hike to the next cabin where we prepare a hearty dinner. 
Day 3
Let the last views of the glaciers and the peaks soak before heading down into a grand valley as if taken from Lord of the Rings. We will hike along a well-known avalanche path, so the trail changes slightly each year. However, this time of the year our biggest problem is probably slipping – not avalanches. 
Some sections are fairly steep, so we take the time to find a good spot for a snack and rest our legs. 
Eventually, we take a ride into town where we finish the trip. 
International Mountain Leader (UIMLA)
Accommodation in 2 mountain huts
All meals from lunch day 1 to lunch day 3
Transfer to the trail start and back to the town center.
Pre-trip online meting
A 1-hour online video meeting ensures you feel welcome and prepared.
Starting location:
We start in the fjord town of Åndalsnes which lies in Romsdalen, roughly in the middle of Norway.
You can get here by train from Trondheim or Oslo and will then travel by rail on the Raumabanan – one of the worlds most beautiful stretches according to Lonely Planet 2022.
Another option is flying to nearby airport in Molde.
If you drive a car it takes just under 6 hours from Oslo, and after the trip you can continue North on the Atlantic Road.
Difficulty and Prerequisites:
This is a hut-to-hut trip which means that it may be difficult to stop the trip once started. However, there are some ways to get out but you would have to pay for a taxi to get back to Åndalsnes. Expect to be out on the trail about 6-7 hours each day. We class this trip as intermediate, mostly because of the elevation gain and descents. But if you have normal fitness, fitting boots and a good spirit you will have a great time despite being a novice.
Please do not hesitate to ask questions.
Packing list:
Some clothing including shell layers, a head torch, backpack of about 40 liters, travel sheet and hiking boots that you like and have experience hiking in. A more thorough packing list will be sent in advance, but requires no specialist equipment.
Good to know:
Please mention if you are allergic to something, have special dietary needs, or take medication for anything on a regular basis when booking. Also make sure your insurance covers this activity and that your equipment is in good condition. Please verify your travel details and flight times before booking travel to/from the trip.