Ski Touring Classics in Romsdalen, Norway
There are few places in Scandinavia that have as many classic ski tours as Romsdalen in the middle of Norway.
5 Days | Åndalsnes, Norway
Tick off the Classic Peaks and find the Best Runs
The title really says it all, but we spice it up with some good food and a nice accommodation with Ski-Touring-in/Ski-Touring-out location as well. A sunny spring day hardly gets better than this. Are you coming?
Ski Touring Package for Snow Nerds
Are you the type of person who likes to enjoy moderate exercise, good food, nice views and long ski runs in dramatic surroundings without classifying every second of skiing as adrenaline-pumping and terrifying? Welcome to Romsdalen. There are indeed ski tours for dare-devils, but on our trip we prefer to focus on the classics. Those tours that you just know will be good. It's a bit like food, sometimes simple ingredients cooked in a non-complicated way are all that is required. Same things in the backcountry. Simple, enjoyable, and let things take their time.
But simple doesn't mean it can't be challenging or for that matter a great experience. When you're going to summit the classics in Romsdalen, there will still be long days and many meters of altitude. Fortunately, we live in direct connection and can take most peaks without even having to start the car. It makes us efficient and maybe we get to do the best part of the runs twice.
And after the ski run, it's always nice to look up at the top and think a little about what it means for a ski touring mountain to become a classic. Maybe it has something to do with the most satisfying feeling that "I would love to do that top again"…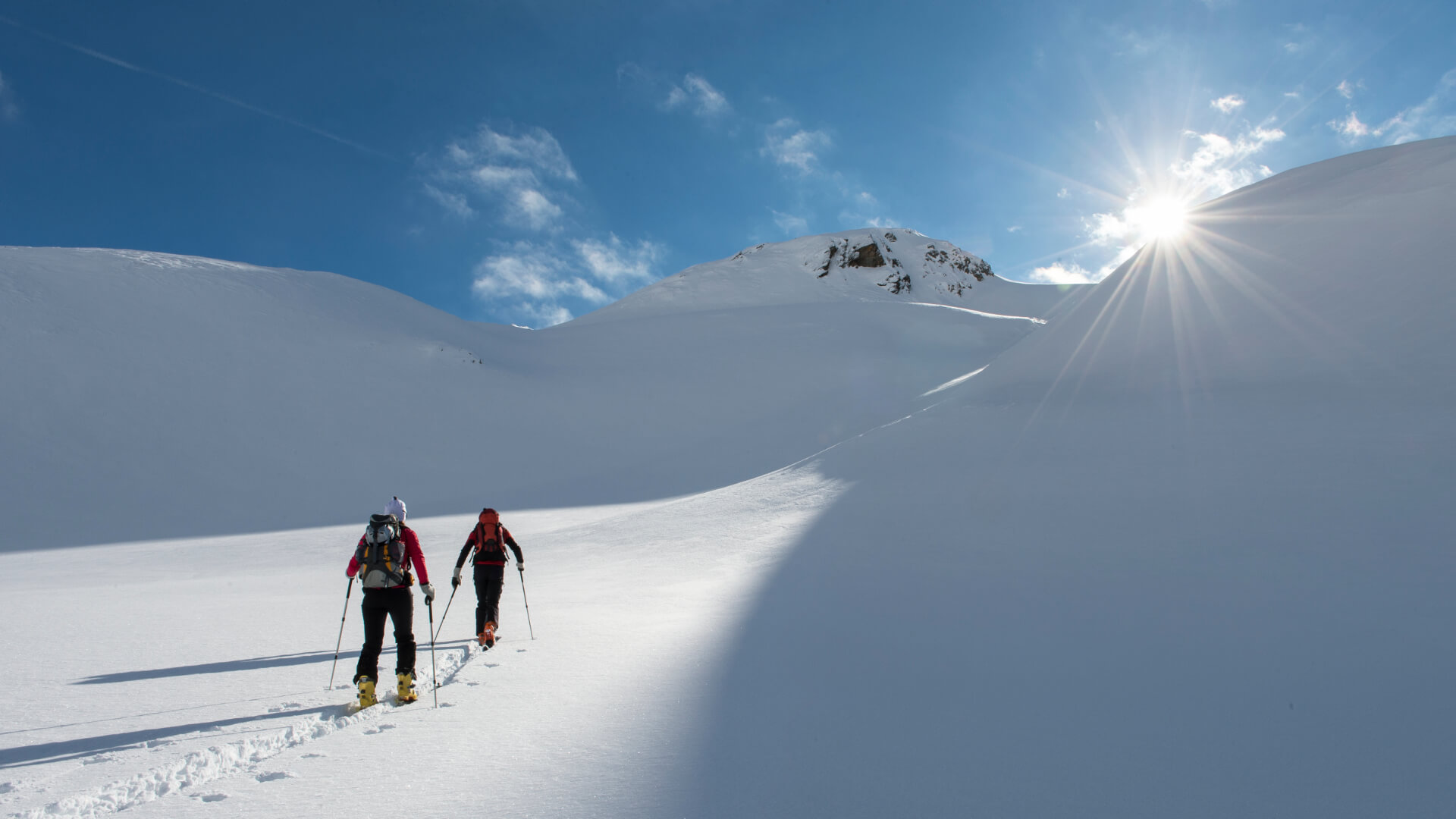 Preliminary Dates 2024
1-5 May (accommodation to the 6th May included)
For groups of at least 4 persons, we can also arrange other dates.
Wednesday (day 1 - arrival)
If you show up in Åndalsnes and don't have a car, let us know and you'll be picked up. We start by cooking a dinner together and going over the plan for the coming days.
If you come here and have a lot of time to spare, we recommend a visit to the Norsk Tindemuseum, which is a museum for mountain sports, or take the Romsdal gondola to Restaurant Eggen for a good lunch.
Thursday (day 2)
The day starts with a look on the avalanche conditions and weather forecast, breakfast and we get ready for the first trip.
We put on the equipment at the front door and head upwards. Depending on the time of year, we may have to walk a short distance with the skis on the backpack. When we get up on the snow, we give a briefing on avalanche rescue and aim further towards the top for a lovely ride down again.
Friday (day 3)
Well established from yesterday, today we are aiming for a new peak. Expect it to be a long day in varying terrain. Most likely we will use the same route into the mountains as yesterday but turn off and move into a different area.
Maybe we'll come up on the classic Kyrkjetaket 1439 m above sea level, which is recognized as one of Norway's most aesthetic ski mountains. In that case, it gives us almost 900 meters of vertical drop and some nice cruising on the way home.
Saturday (day 4)
Depending on the weather and snow conditions as well as the physical status of the group, we may put today's trip 10 minutes away by car. Exactly where we go is a secret, but this is also a classic. Long day, leisurely pace, packed lunch prepared by yourself from the breakfast table.
Sunday (day 5)
Weather and the previous days set the theme for our last peak for this time. Directly above the cabin, there are some slightly airy but relatively simple projects that make a perfect grande finale and give us a ride where you can adjust the slope angle to your own taste and liking.
Before we slide all the way down, we might settle down on some sun-warmed rocks and let the whole trip sink in a bit. A sip of water and some coffee usually sit nicely here.
For those who go home already in the late afternoon, there is an opportunity to shower before the journey, in other cases it is also fine to stay over until Monday.
Monday (departure)
We empty the breakfast supply and thank you for this time. If you need a ride to Åndalsnes Centrum, it's fine and here too you can time a trip to the Tindemuseum or the Romsdal gondola if it takes a while before the train departs.
Safety & Avalanche Equipment
(transceiver, shovel and probe)
4 nights Accommodation in shared twin room
(The accommodation has several double rooms with single beds | Arrival the day before and departure the day after the tour)
All meals from dinner day 1 to breakfast day day 6 (day of departure)
We cook the food together. Simple & good.
Local Transfers if necessary
Pickup by car from Åndalsnes Centre
Feel free to take the train here and experience the Raumabanan – one of the world's most beautiful train routes according to Lonely Planet 2022.
Optional Add-ons
Please book well in advance
Pickup/Drop off at Molde Airport
Get in touch and we'll see if there are more that need to be picked up and try to sort out the best possible options.
Rental of skis, skins and poles
Please inquire for details. We recommend you bring your own ski boots.
Starting location:
We are staying in Åndalsnes in Romsdalen, which is in the middle of Norway by the coast. You can get there by flying to Molde and then taking a rental car. Alternatively, you can also take the train to Åndalsnes via Oslo and Dombås.
Difficulty and Prerequisites:
Good fitness with the attitude that these are long days with many meters of altitude, but no elite race.
Have been on a ski touring trip before.
Have skied off-piste before.
Please do not hesitate to ask questions.
Packing list:
A list of what you need to bring can be found here. If you have any questions, please ask.
Good to know:
Please mention if you are allergic to something, have special dietary needs, or take medication for anything on a regular basis when booking. Also make sure your insurance covers this activity and that your equipment is in good condition. Please verify your travel details and flight times before booking travel to/from the trip.